Boil Water Notice Issued for Fifteen City Customers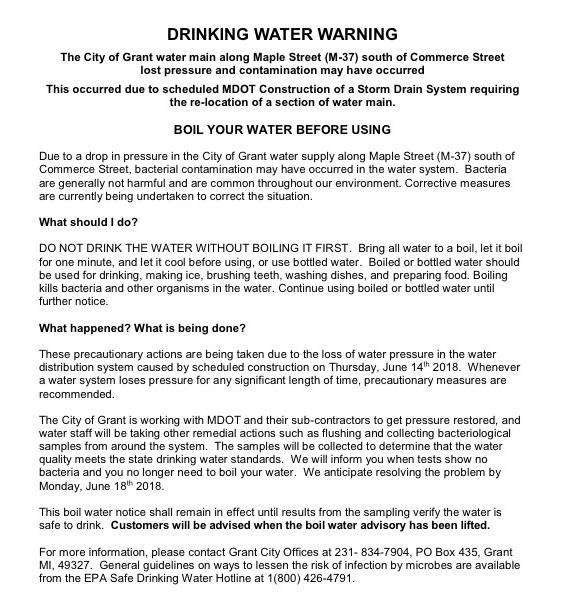 All affected customers were notified the day before this MDOT construction work started.
2018 Grant City Commission Meetings Schedule
Always on the 3rd Monday of each month at 7:00pm
Image of CCR Report as published June 2017
Spring Water Main-Hydrant Flushing April 1-30 (mostly between 9pm and 2am)
DPW Staff will be flushing water mains by opening fire hydrants to flush sediments out of the mains as part of our routine maintenance program. Some discoloration of water may occur throughout this flushing period, so let your water run for a short period of time if you notice discoloration until it clears. While water will continue to be safe to drink , residents are urged to be cautious of discoloration while doing laundry during these times.
Newaygo County Museum is Open
The Newaygo County Museum is located at 12 Quarterline, Downtown Newaygo, across from Brooks Park.
Hours: Friday-Sunday 12pm-4pm through the end of October
The museum has permanent logging and Native American displays as well as rotating exhibits, with over 10 new exhibits currently. There is also a "Country Store" gift shop where locally produced items and items of historical interest are available for purchase.
For groups of 10 or more, private tours can be arranged by calling the museum at 231-652-2892.
Admission is free, but donations are always welcome and appreciated.
Contact Webmaster
Updated August 14, 2018
"The City of Grant is an Equal Opportunity Provider, and Employer"