The City of Grant's Water Tower Park is located in the center of the downtown business district along M-37, and while driving by you cannot miss it. The park features one of the last two historic wooden water towers remaining in the entire State of Michigan, an original Chessie System Caboose, decorative landscaping, picnic tables and park benches. A special thanks is given to the Fremont Area Community Foundation for their generous grant, as well as generous contributions to the project from residents and businesses.
The Historic Wooden Water Tower is now home at Water Tower Park. This wonderful project would not be possible without the generous grant funding from The Fremont Area Community Foundation and many generous donations.



The roof was restored and both donor plaques were placed, listing the names of every person who donated to make the project possible. The caboose was repainted, and the Chessie System logo was hand-painted separately. City of Grant taxpayer dollars spent on this project was $132.00.



The Michigan Registry of Historic Places approved the plaque in December 2010, and once it was finished, it was placed in the park to celebrate this historic community treasure.





More details available about the

Historic Wooden Water Tower Move




This historic wooden water tower is one of only two remaining in the State of Michigan
Chessie System Caboose at Water Tower Park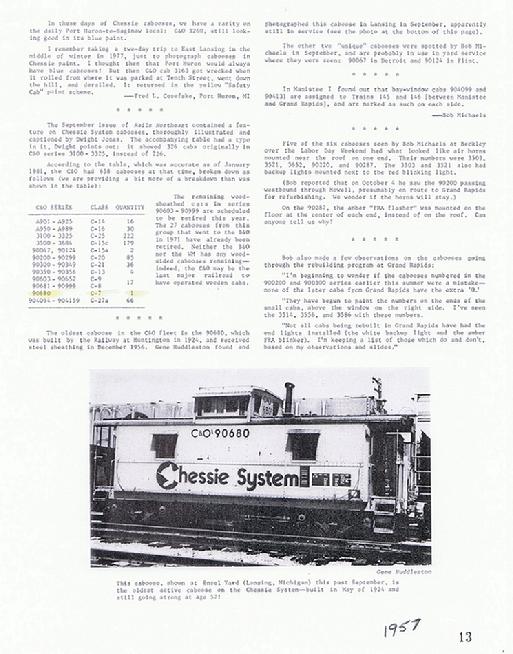 The Chessie System Caboose at Water Tower Park has an interesting history.
This park is located on Park Drive just off of east State Road across from the Grant Elementary School. Blanche Lake Park Amenities include:
Fishing, whether from the 144' of docks or from your boat

Boat launch available seasonally

A 40' swim beach to the east of the boat launch

Picnic Tables and charcoal grills

Restroom (no running water or lighting)

Amphitheater

L.E.D. lights throughout the park

Limited surveillance cameras

Two 15' player benches at the ballfield (2013)

Bleachers for spectators behind the ballfield
Since 2009, the City contract with PLM Lake and Land Management to improve Blanche Lake. You may notice two large sections of cattails that used to be present have been sprayed by PLM through the permit process and subsequently cut down. PLM comes out a couple times each year to do spot treatment throughout the Lake. We remain hopeful to find some funding source to partner with so that we can make a significant lake restoration effort in the future for generations to enjoy.

If you notice anything on the Blanche Lake Park grounds requiring immediate attention, please contact the
Department of Public Works
(DPW) at 834-7462 during normal business hours.
Our DPW staff checks City parks regularly and empties trash containers weekly. Any concerns found in the afternoon/evening should be reported immediately by calling the DPW. We invite visitors with dogs to enjoy the lake park setting, and we ask that you keep your dog(s) on a leash for the safety and enjoyment of other visitors.
Amphitheater at Blanche Lake Park
| | |
| --- | --- |
| The City of Grant received a $56,000 grant from The Fremont Area Community Foundation for the construction of this amphitheatre. Groups interested in hosting events at the amphitheater are asked to contact the City of Grant municipal offices directly a couple weeks ahead of time. There is currently no cost to utilize the amphitheater. The City allows users to check out a restroom key for any one day or weekend planned events. Please contact City Hall no later than the Friday morning before your gathering to make arrangements to check out a bathroom (bathroom currently closed) facility key. There is no hand washing station or hand sanitizer provided at our facility. | |
Trails at Blanche Lake Park
For many years there have been upper and lower trails available to use at Blanche Lake Park. If you have a group looking for a great place to volunteer, our Blanche Lake Park trails could use some attention. We always need help hauling out brush, painting picnic tables, raking the upper trails from one end to the other, and cleaning up the park grounds. Please contact City Hall for more information.
| | |
| --- | --- |
| The lower trails at Blanche Lake Park | Upper trails at Blanche Lake Park are accessible along the south side of Park Drive from one end of the park to the other |
| | |
| --- | --- |
| The City Commission has partnered with local businesses to host four Movie Night in the Park events in recent years. While we still have the 9x16 inflatable movie screen, we currently have been unable to obtain the necessary funding to continue offering free movie nights. If you know a local business interested in sponsoring a movie night, please have them contact Sherry in the City Office. | The 9'x16' inflatable movie screen worked perfect for our Movie Night in the Park events. |
Ryan Benson Memorial Skatepark
Located 2 blocks off of M-37: Main Street to Lake Street, right to Brink Street, and left at Harold. The exact address is 85 Harold. "Know Your Limits, and Skate Within Them!" Please remind those using the park to abide by all of the rules. Tickets will be issued for littering, so remember to always use the trash receptacles. Also, visitors are strongly discouraged from bringing any questionable substances into the park. All activity is regularly monitored, and we want to ensure all of our visitors have an enjoyable experience. Please remember to stay out of the path of other users, and stay clear of the ramps while in use to avoid injury to yourself and other users.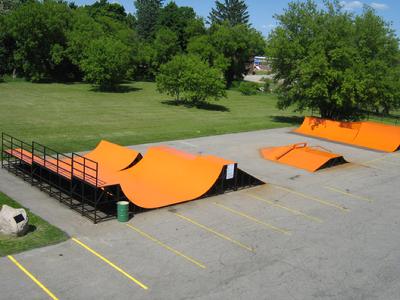 Ryan Benson Memorial Skate Park
City of Grant Recreation Plan
City of Grant
280 South Maple Street,
PO Box 435, Grant, MI 49327

Phone: 231-834-7904 | Fax: (231) 834-5984
Monday - Thursday 9:00 AM to 5:00 PM
Friday

9:00 AM to 12:00 PM
"The City of Grant is an Equal Opportunity Provider, and Employer"